Uganda is very rich in wildlife and is one of the countries that harbors the big five game animals. There are so many reasons why one should visit Uganda. Sir Winston Churchill was so much in awe of the country he called it the "pearl of Africa." Below are some of the reasons why you should visit this unique fairy tale country.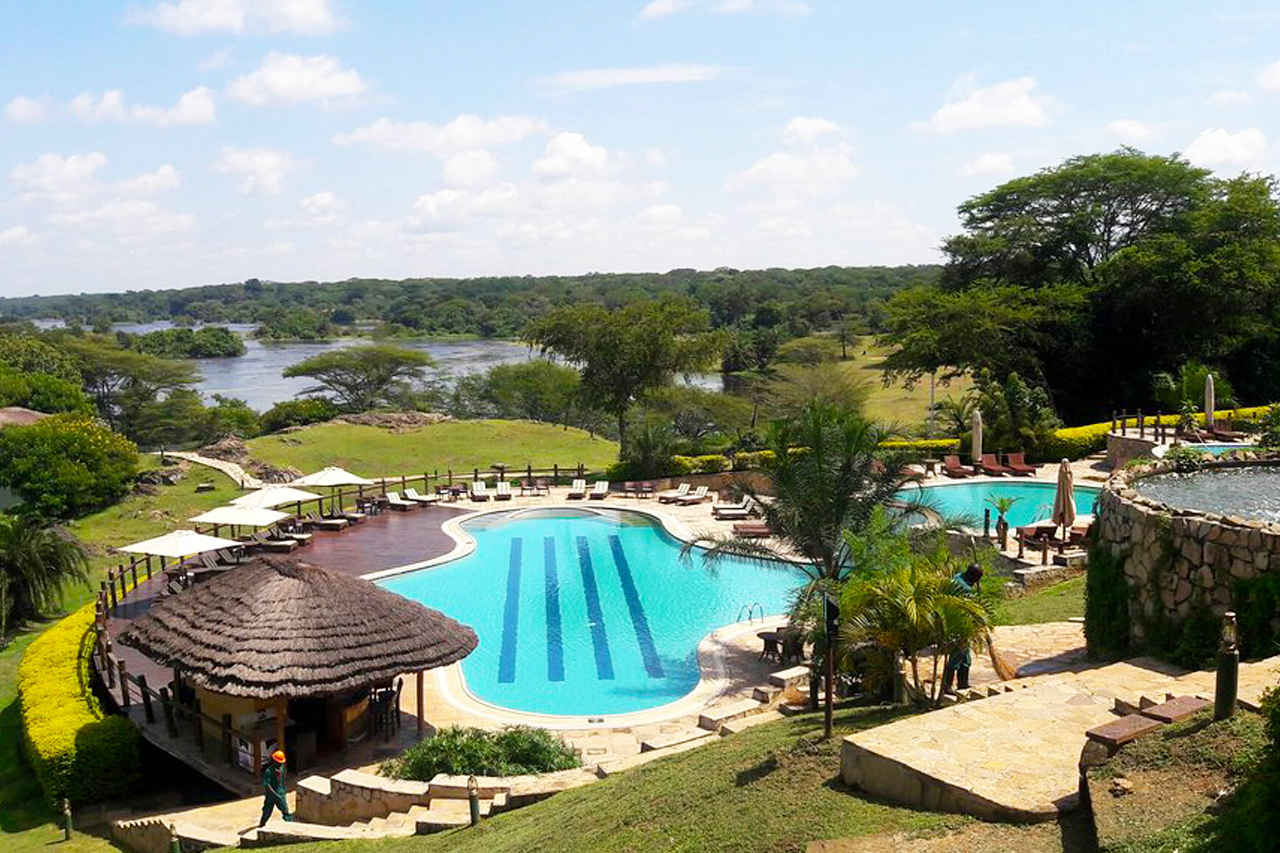 1: Green destination and Responsible tourism
Now there's something about the green emerald lush that masses most of Uganda's landscapes, but many might still envision this country south of the Sahara desert to be heat stricken and largely dry all year round.
Surprisingly, Uganda might be greener than any destination you've been to and you'll love the weather here.
Because of its location in the very heart of the African continent, the country enjoys a rich mix of West and East African biodiversity making her a darling for tourists in a Uganda safari.
Visit Uganda's Bwindi Impenetrable National Park and you will relish in a royal walk through one of Africa's most coveted rainforests. You could still take a hike through the vegetation zones in any of the many mountains in Uganda, and if we must bet on this one, I'd confidently affirm that you will be stunned!
It is impressive to see how the Government of Uganda, together with its people have preserved, and where necessary carried out sustainable harvesting of some of these green resources. But what is even more fascinating is the country's fast-budding notion of sustainable tourism.
Uganda's tourism offers countless opportunities for visitors to directly or indirectly contribute to the livelihoods of the host community. Visitors on a Uganda safari can enjoy a visit to a traditional dance group after a game drive in Kidepo Valley National Park or engage in a stroll along the Batwa trail in southwestern Uganda. Visitors can also support a local school through one of the many philanthropic projects coordinated by the tour companies.
2: Water is everywhere
I promise to not talk about the Source of the Nile because it has been glorified enough by those who have visited the point in Jinja (eastern Uganda) during a Uganda safari where this, the world's longest river learns to flow. But what's extremely hard to ignore is the country's vast expanses of water.
Uganda with her position in the Great Lakes region has at least 25% of her land covered by wetlands and this partly explains the vibrancy of life in different forms (both flora and fauna) but also the mindboggling scenery formed by the many water bodies.
Lake Victoria, which is the world's 2nd largest freshwater lake has its bigger share protected in Uganda while the island-dotted Bunyonyi, a calm lava-dammed lake is one Africa's deepest lakes and indeed a sight to behold; it actually formed the muse for some scenes in Marvel's Black Panther movie. Yes, I mean that Wakanda movie.
3: Off the beaten path
Now, this right here is the main reason why I partly fell in love with northeastern Uganda.
From my interactions with many people who have been on a Uganda safari holiday, I have concluded that this country is still largely untapped. Let's call it the virgin among major safari destinations.
The contemporary avowal goes… "let's say it as it is".
At the mention of the word safari, one's mind will most definitely take a journey to one of Africa's other older Big Five tourist destinations, maybe South Africa, Kenya or Tanzania where safari jeeps are pictured everywhere, with herds of animals and everything so easy to see.
But draw a little nearer and let me whisper in your ear.
Picture this… You are out on an evening game drive in an open-side safari jeep during your Uganda safari. The sun is setting beyond the horizon, you are guarded by miles of endless savannah, the wild narrow path leads you deeper and deeper and this game drive is getting a whole lot more intimate.
Now let's also picture you spying on a lioness out on a dinner hunt. She puts on a display of survival for the fittest, similar to a scene on Nat Geo Wild; only that this time you are watching it live in the African bush. But what's even more rewarding is the fact that all this is enjoyed with no obstruction of competition. It's just you and the wild!
Now that right there is what I envision to be the true meaning of safari and I have experienced it not just once, but several times out on a Uganda safari, especially in Kidepo Valley National Park.
4: People their culture and food
All travellers (okay let's say most tourists) enjoy a holiday that offers a chance to learn about other ways of living. When we travel we want to gain a physical link with new cultures, we want to connect with people whose lives are so different but somehow so similar to ours.
From the very first day on your Uganda safari to a chat with a local boy near one of the tourist sites, you can feel a tangible sense of friendliness from the Ugandan people; they are very open and curious and they love their fun.
What's even more unthinkable is how diverse their cultures are. 56 tribes and about nine indigenous communities all speaking different languages, have different traditions and beliefs; make Uganda a boiling pot of Africa's different societies. One place to get immersed in the country's cultural taste of all human senses is at Entanda while visiting on a Uganda safari.
5: Fast-growing Business & Events Destination
I have been privileged to watch some first class hotels being set up and international hotel investors opening up in Uganda.
There are now more options in Kampala, Entebbe, Fort Portal and most major towns for meetings and conferences; and we continue to see more investments in this area, even by international hotel chains like Marriot, Sheraton, Hilton; and regional hotel groups like Serena and the Speke Group of Hotels.
We also now see a rise in interest for investment in accommodation, in and around the national parks focused on facilities that meet both the needs of the contemporary tourist, while also providing for business and incentive travellers.
The Government of Uganda is also prioritizing the establishment of a convention bureau for Meetings Incentives Conference and Events (MICE) tourism.
Now flip the coin round, Uganda and particularly Kampala has for long been branded the party ground for East Africa and beyond. This city which never sleeps maintains a cool vibe to it, day and night, and this has expanded to other towns in Uganda and impressively, the events sector continues to bustle.
One of Africa's biggest music events which you can also enjoy during a Uganda safari, the Nyege Nyege festival will take place in Jinja again and this is expected to attract multitudes of persons from all over the world for 4 days of partying.
Just beware during your Uganda safari that although Ugandans are hard workers when the party starts, no one can keep it going better than they do.
6: Quality time with the cousins
They say it is always wise to make the best use of the time spent with family while the opportunity still lasts.
Majority of people enthusiastic about wildlife, especially a Uganda safari will know that a mountain gorilla encounter is the ultimate wildlife experience. I got to see them last year, and boy was my heart melted by their display.
While the mountain gorillas can be found in three countries in the world, Uganda offers a high-value experience that involves the real-jungle trek in the forested gorilla kingdom in search of one of the families of mountain gorillas. Uganda is not only the safest place to track the last few mountain gorillas, but also offers this experience at an affordable price.
Oh did I forget to speak about the bit where this same country has more than half of earth's 1000 mountain gorillas in its Bwindi Impenetrable and Mgahinga Gorilla National Park?
While on your Uganda safari, you can track the mountain gorillas and also visit the chimpanzees with ease on a single holiday. Yep! With ultimate ease, you can enjoy a Uganda primate safari to discover why these great apes are cousins of the human race.
Did You Know that the Uganda safari chimpanzee trekking in Kibale National Park tops the list of The top 7 places to track chimps in the wild, and is by far the world's best location for a trip to discover man's closest relatives, the chimps?
7: Tree climbing lions
Your cat at home probably climbs everywhere and everything. However, the thought of a first-time encounter with lions chilling at ease up in the trees of western Uganda during a Uganda safari must baffle you?
The southern Ishasha sector of Uganda's Queen Elizabeth National Park presents perhaps the newest "wonder of the world", the Tree Climbing Lions. These great felines who were recently featured in a documentary by Nat Geo Wild can be sighted during a game drive in this part of the park lazing on some of the branches; an unusual sighting which often leaves tourists mesmerized.
8: More birds than anywhere else in Africa
There's this bird that I think has its nest in my roof. Many a time in the mornings when I am not too focused on planning for the day, I will sit back and listen to her singing her sweet innocent melody. She keeps me reminded about how fortunate we are to have birds literally everywhere we look.
Uganda is home to over 1072 recorded bird species which is about 50% of Africa's birds and approximately 11% of the world's total bird species count found in her varied habitats on a Uganda safari. Those are many birds for a small landlocked country; actually a lot more birds than the USA, Canada and the United Kingdom combined.
A delight to many birders is spotting some of the rare bird species like the shoebill. Uganda is also the only place on earth where birders can see the Fox's Weaver, which was previously feared to be extinct. Feel free to also check out my Uganda birding guide here.
9: Landscapes and features
From the dramatic and imposing snowcapped mountains to the countless shiny beaches that dot its shorelines, Uganda is a country full of natural beauty and inspiring landscapes.
If you have an eye for breathtaking views and unusual scenery like me, and if glorious landscapes capture your eye then you will love the country's mixture of contrasting landscapes while on a Uganda safari.
Some of my recommendations will be a visit to the crater lakes, a hike in Pian Upe Wildlife Reserve, boat cruise to the bottom of the mighty Murchison Waterfalls, a drive through the terraced hills of southwestern Uganda, or the forest walk through Semliki Wildlife Reserve and the Impenetrable Bwindi. I wish I had space to list more for you to add to your Uganda safari itinerary.
10: Endless challenges and experiences
Uganda's many landscapes and features present endless challenges which make her even more exciting to visitors. Mountain climbing, nature walks, one the world's best white water rafting spots, quad biking, abseiling, kayaking, hot air balloon safaris, launch cruises, bungee jumping, horseback safaris and cycling trips.